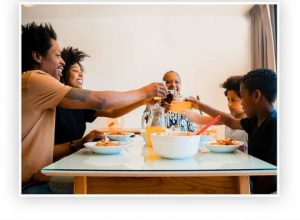 You're skeptical, right? that's just one of the few things land investment could do.
So, let's get into the data-driven analysis.
" 2 years ago you could have bought this land property for 800,000 nairas"
This year February, it's selling for 7 million nairas"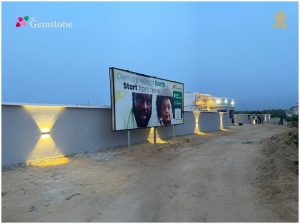 Just think what it is worth 2 years from now.
If I'd bought it back then.
Or take Paul,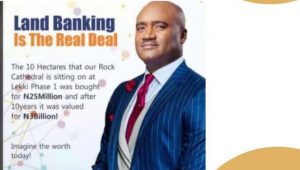 The pastor of the house on the rock, who saw crazy return on investment after 10 years.
Did he just say, 3 billion? That's just crazy.
I mean Land banking, it's real. It's just the easier way to become a billionaire.
Because I'm one too, and that's why I'm going to tell you this secret I've kept for long.
Just revealing it to you now.
So, let's get into details.
"MOST PEOPLE ARE TOO STINGY TO MAKE ANY INVESTMENT"
I HOPE YOU ARE NOT OR ARE YOU?
The careless story of my land investment initiatives – what triggers it
Guess what!
I used to work hard. The 24 hours days. The 7 days week. The 30 days month.
But I didn't start earning big until I think again; I think investment – a lot of land investments.
For example, it took me 15 years to think about land investments. With a little luck, I should have earned 10x before now, maybe a hundred million naira more.
I would have spent millions for something that'll cost me no more than a thousand naira.
Because I love to catch many eyeballs, it's just me. And it's not spiritual.
But I have one issue, the issue of not holding money in my pocket for long, this might be spiritual.
In other words, I doubt whether it's spiritual, I can't say.
Maybe I'm only ignorant of how far investment can take me.
After all, why should you care about a stingy man if I can show you how to invest a lot more?
What if I'm so sure that you will invest my stingy man's way?
That'll give you plenty of time to think about, look it over, and try it out.
If you don't agree that it's worth at least a hundred times what you invested, don't read anymore. Send my story in the return mail.
And if you wish to stay put, I'm already going to give you the biggest bargain of your life.
Because I'm going to show you what it took me 15 years to perfect.  How to invest the stingy man's way.
Okay – now I have to brag a little. I don't mind it. And it's necessary to prove that land investment is worth it.
This I'll keep pushing you to do until you get smart enough.
Now I live in a home that's worth 90 million nairas. I know it because I turned down many offers until I found my taste for that specific amount.
I'm a big guy, a big investor, and have the best home.
Now I can relax on the beach when I feel stressed out for the day.
My view is so breathtaking that most people comment that they don't see how I'm a stingy man.
The most important thing I have is priceless, time with my family.
All because of the investments(property) in-store already.
And I will show you how I did it – the stingy man's way – a secret that I've shared with just a few friends till now.
The mentality of property investment – what you should do well
It doesn't require any qualification….I'm not too educated.
It doesn't require "luck" I've had more than my share. And you may do better.
I personally know one man who used this principle into owing a multimillion firm in Nigeria. Money isn't everything, but value for the future.
It doesn't require talent, just enough brains to know what to invest for. And I'll tell you it doesn't require youth.
One woman I helped is over 70 years. She has traveled the world over, investing all she needs, doing only what you are reading here.
It doesn't require experience, a non-knowledgeable man in Ogun state has averaging used property investment to save his life and his children's future, using this same method.
When luck found me – The untold story
What does it require? Belief. Courageous enough to take chances. Enough to put the principles into action.
If you do just that – nothing more, nothing less the results will be hard to believe.
Remember – I guarantee it.
Just remembered when I was paid 500k for my job, yet I was worse than living a good life. My only assets were my wife and 2 children.
Because I failed to think about investment. It's not just my thing.
Within 6 months, after I have found luck, using the principle of the stingy man's way to investment, things started to change.
Within 1 year we were driving a brand new range rover and land cruiser car.
Our bank account had multiplied ten-fold
And today;
I live in a home worth over 80 million
I own my office
And I have a net worth of over hundreds million figure
But I want to ask you a simple question.
And here's it.
Are you willing to risk 7 million to make 40 million or more?
I realized that sounds ridiculous and it makes you feel uncomfortable – but believe me, it is not.
Where land investment of 7 million has an excellent chance of making anywhere from 40 million to 70 million in 5 years.
I believe it is a chance of a lifetime.
The only reason I'm saying this is not because I'm not well financially stable but I want you to become the next millionaire and be the first to own land property in your family.
Can you? I believe, you can…and the result will be hard to believe.
If you don't know much about land investment, let me educate you:
The surest advice I can give any individual no matter the demographic is that land investment is the goldmine for a safe/secured future.
It's not because I was told, but I'm a big testimony of it…it's work too well.
Don't ask me how?….truly, I know.
Why because land investment can guarantee a great return, large profit margin, and crazy passive income.
Before I step you further…there's one thing to say.
Which is, investing in the land comes down to the ability of your reasonings and management skills.
Here's an example.
Let's say you buy raw land. What it means is that you buy land that's untouched, with no essential buildings or properties on it.
It's there clear and remains intact for the property owner.
This means it has no established house property or building that can be used for development.
In essence, these are one of the three types of real estate investment:
Commercial property
Land property
Residential property
And there's no doubt, land investors are increasing than the population.
Arguably the greatest investment you can ever stumble upon.
Better ROI
low cost
large opportunity(tend to attract a lot of investors).
The more years land investment stays, the greater it appreciates.
It's a long-term gain(crazy money cashout), not a short-term win(party, buying expensive cars, buying the latest iPhone).
Also, consider this:
Value – Brings high return on investment(The benefits must outweigh the price you pay for).
Good prospects about the location.
Exposure wise(catching eyeballs of big investors).
All these are what Gemstone will offer you.
This video below will help you get started…Check it out
When you get Gemstone, you get Dangote refinery and the breeze of the Lekki beach.
According to F.N, Clark,
But it is difficult right now to raise the required amount of money among a few to handle a deal of this size.
Of course, you understand that a lot of money cannot be made quickly in any business without taking risks.
Here's what Invespodia said more:
Potential investors in land need to be aware of the specific types of land-related investment options available through investment products such as exchange-traded funds (ETFs) and exchange-traded notes (ETNs).
For most small investors, real estate investment trust (REIT) ETFs are a solid, cost-effective choice because they do not require direct management, are broadly diversified, and can be purchased or sold on a real-time basis.
Various ETFs and ETNs cover most land-based investment categories, including timber, minerals, and farming.
The fact is, I don't know much about a land investment before now, like I said it doesn't require any education.
What helped me then was that I learned my lesson the hard way which made me wise enough.
I became the wisest man when I found out what land investments could offer for my future and my children's future.
Don't take as long as I did to find out what was right.
I can't believe how successful I have become.
A year from today, you can be nothing more than 365 days older – or you can be on your way to getting rich by property investment – you decide.
So if any of our property(gemstone or capstone) is appeal to you let me suggest that you get on it while you have a chance.
Treat this like you would for any high-class cars or material things you buy.
Sign up with our newsletter or book for an inspection today – just to site tour – and then if you want 1 acre, say so.
If not, no harm all be done – but do it right away.
Things like this do not last.