What does it mean to buy land in Lagos? is it still the mother of the universe?
Just think about this.
A landed property continues to flourish for one very simple reason.
It's what the people see that appreciate faster and even more.
They don't want intrusive investments like crypto, forex(trading), and so on.
They don't want an investment that doesn't even scale at all, an investment that has nothing to do with them seeing a good return on investment over time.
People want sincere, credible, promising, risk-free, and worth-living investments because all that matter to them.
Of course, it matters for every one of us.
That's why we need to be sincere and be what people are interested in…
…That's landed property in a nutshell
And yes, it is still the mother of all universe, because it is forever safe and remains unchanged.
Consider these statistics:
Eystone team did a fantastic job, stating that:
Compared to other investments, land property cost 30% less but generates 5x as many returns on investment.
Raw and vacant land are leading the charge in 2022, generating a roughly 25% increase in profit.
Roughly 17% of real estate investors plan to increase their wealth portfolio by investing in landed property.
What this means is that;
If you don't own a land, you probably don't own a earth
And why?
It's that simple.
Because the landed property is extremely important to your overall long-term investment.
It doesn't depreciate
It's not affected by economic inflation
It's a long term passive income
It's not affected by time. In fact, time is land property's greatest resource.
It works. Exceedingly well.
But the thing about buying land is – it's constantly evolving and changing.
And I'll explain the reason "why"
The strategy that works last year might not deliver the expected result today.
And it's for one reason.
Location Strategy
What determines a great property investment is a good location.
…Location is everything
Because is what directs your market, attracts your target audience, and boosts your property portfolio.
People spend money on a selling market and what they see people are consuming.
That's why real estate investors have to stay on top of the industry, paying attention not only to what returns the property brings but where the market is headed to.
So, what is the real deal in buying land in Lagos?
Does it worth it? can the market attract foreign investors too?
…Let's find out
Buy a land – what is the big deal?
Buying land is as much about watching the market as it is about spotting the opportunity and having a good property portfolio.
In the early days, you could buy land as cheap as 20 Naira, and still, generate much profit.
But, not anymore, some lands are as expensive, going for 1.5 billion Naira.
I believe you can relate, buying land on a banana island is like building 5 expensive houses in Lekki.
There's class, there's so much difference in style.
But, simply buying land is not enough. You have to think about the opportunities and the market.
About 30 years ago, I bet that you already know that buying land on the banana island isn't as expensive as it is now.
Right?
…That's right
But then, smart investors were able to spot the opportunities and the market trend. And I'm not talking about the rich mogul, often referred to as the "angel investors".
No. It's more about how you can see the market, where the consumption is headed, and where would attract the masses and both local and foreign investors.
The market trend is the number one important factor in property investment.
Take, Ibeju-Lekki
According to research, Ibeju-Lekki will generate 70% of Lagos's wealth in 2025. That is near
In fact: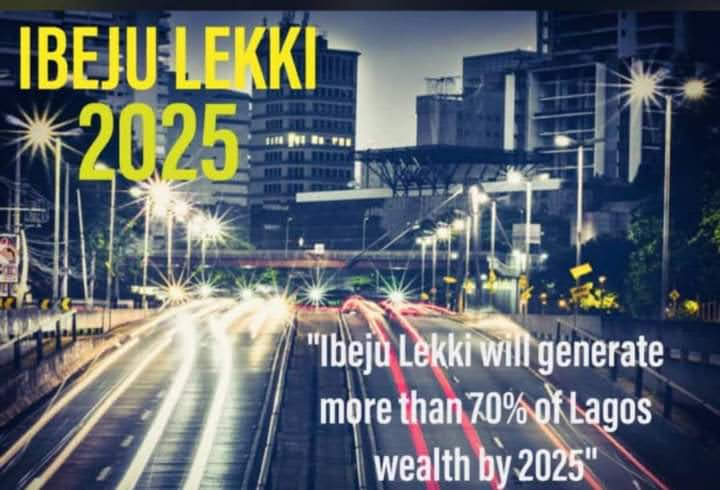 Ibeju-Lekki, it's been the most frequent question asked by many investors for the past couple of years.
According to thisdaylive, the CBN governor who was visibly excited about the land of work at the facility which is expected to commence refining petroleum products before the first quarter of 2022, noted that it would contribute significantly to the growth of Nigeria's gross domestic product(GDP).
Ibeju-Lekki and Epe are becoming the new Lagos in the real estate game.
Why?
Investors are increasingly relying on market trends because that is where human's consumption is.
In the case, of:
Rentals
Buy and hold
Flipping land
In fact:
Ibeju-Lekki,
Is estimated to grow 4000% of rental property in profit
Flipping land is on the high returns
Long-term passive income
With the high potential to attract both the local and foreign investors.
Study the future opportunity because it matters in the real estate game
They do say, quality still matters more than quality.
The same is true in the real estate game, spotting future opportunities matters more than being skeptical about the returns.
Because there has been a sloppy market trend over the past few years. This will continue
According to fortune builders, On that same note, other investors have speculated on how technology will impact transaction times and relationships across the real estate industry. This includes buyers and sellers, landlords and tenants, and even investors and contractors.
In reality, investors should focus on the best ways to adapt these new technologies before their competition has a chance to do so.
It might sound rude, but human consumption spans are getting shorter, but people are still willing to invest in property with a realistic future and meaningful market trend.
Just remember that we are not talking about buying land for the sake of owning a property.
…Smart investors want purpose
They want a property that can outlive them.
And they are not afraid to spend big money with them.
The bigger the opportunity – the more the market trends grow – the higher your return on investment.
Does selling location matter? it's a big yes
There are other trends to keep at least a passive eye on, the most important one is a selling location.
Everything from the residence to the type of investment that fit the consumer's needs.
Because:
Trends come. Trends go. But the consumers' behavior still remains unchanged.
But if you truly want to stay one step ahead of the competition, you need to make some adjustments to your location strategy.
Identifying a good location as they are buzzing is one thing. Accurately predicting a selling location before they become buzzing is the real magic.
But if you do, you are on the frontline and ahead of the curve.
I bet that you are going to see more steady returns than your competitors.
So it's time to bring out your real game and study what location people are heading for consumption.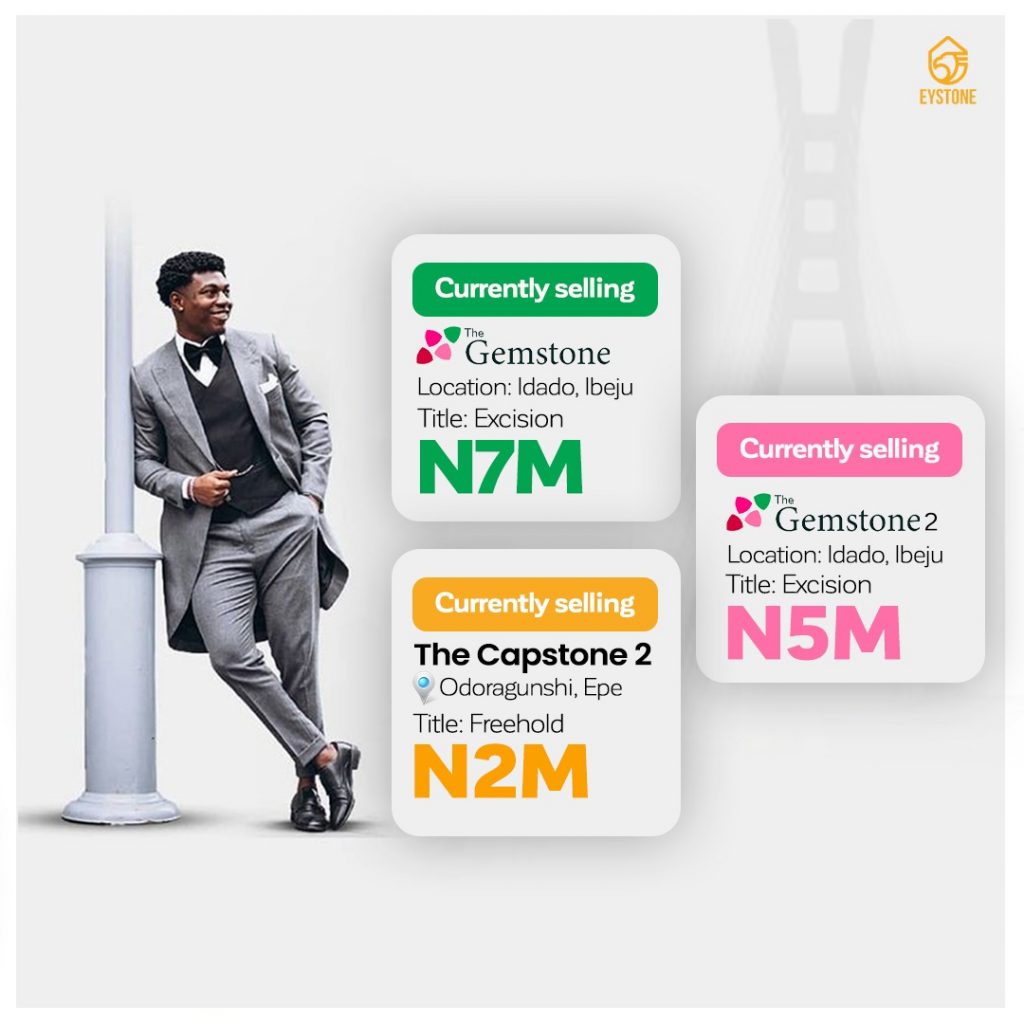 A selling location is gaining ground. That's why big real estate brand like Eystone is investing big in strategic areas for our clients because we care about what you are interested in.
Study the property portfolio
A property portfolio should focus on producing quality experience, authenticity, trustworthiness, and a lasting relationship with your clients.
And these range from:
Good property title document
Knowing the unexpired interest rate
Good location and more
According to pettyson, Building a good property portfolio requires solid foundations, so your first property could arguably be your most important. Getting things right from the start will make your life a whole lot easier down the line.
Let's go over what a good property portfolio contains and how to create one.
A great portfolio is created for consumers' needs and this purpose needs to be clearly defined.
Ask yourself if you are buying land to boost revenue and grow profit over time.
Once you have clearly defined your property portfolio goal, you can determine if a specific strategy is actually the best way to achieve this.
Don't assume that buy and hold property or flipping land is the best option in every situation.
For instance, buy and hold might be of little use in terms of profitable returns in some locations, however, it could be valuable in some areas in terms of the same profitable returns.
Different segments of your property portfolio warrant different types of investment.
So, you will need to decide what property investment is most appropriate for the residents and investors for a given time.
That way, you'll have to right portfolio with the right investor at the right time.
Conclusion
Now that you have a clear understanding of how to buy land that appreciates fast and quick.
Don't forget to always do some market research.
That way, you'll be able to stand out in your niche.
So, if you don't know how to go about everything(buy land).
It's what we do here and my team is ready to work with you.
Simply subscribe to our newsletter or contact us today.