Before now, you have probably heard that property appreciates fast and generates quick returns.
However, certain fundamentals in real estate remain unchanged.
For example, targeting a preferred location with the sole intent of yielding greater returns no longer work with real estate investment.
But choosing a selling location that's a good fit for your investment is still an important piece of the real estate game.
Beyond getting real estate advice, targeting selling location reveals a lot more about buyers' intent and what they're struggling with.
With so many real estate agents, it's become almost impossible to determine which property ones need to buy, stick to like super glue, and which you can safely ignore.
Using realtors to buy property, is an old real estate tactic?
Should you devote your time and focus on what property a real estate agent brings to your table?
How can you buy a property that drives a crazy return on investment within a year?
Where do the chances of your property stand?
The toughest question of all is? how much in returns?
And, seriously, what kind of property truly best describes good investment returns?
#All these are burning questions:
The fact is:
Both investors and real estate agents want to see more returns because that results in getting more clients and securing better investments.
For this:
Eystone did a fantastic job, showcasing what makes up a good investment.
And they found out that the only way an investment could stand some chances in appreciation of value is when it yields 30% returns within 3 months.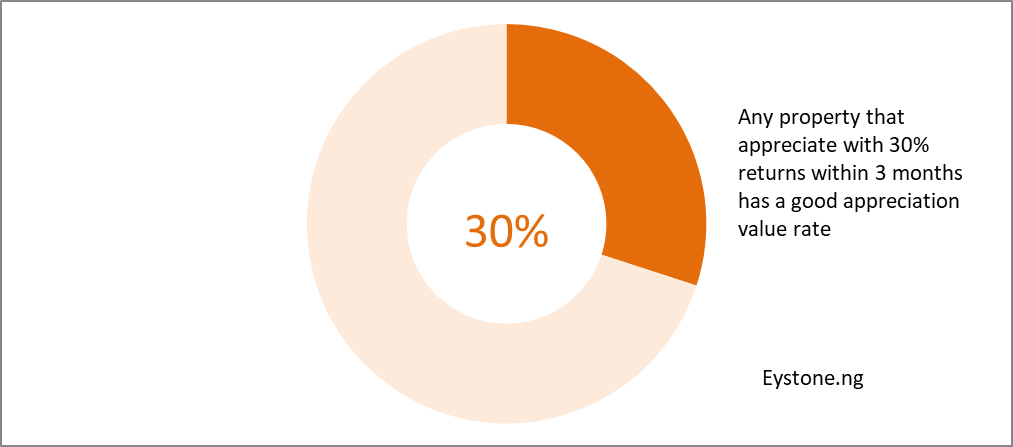 In fact:
Take, one of our realtors, who uses our advice for her client and went from investing a token to yielding 30% in returns within 3 months.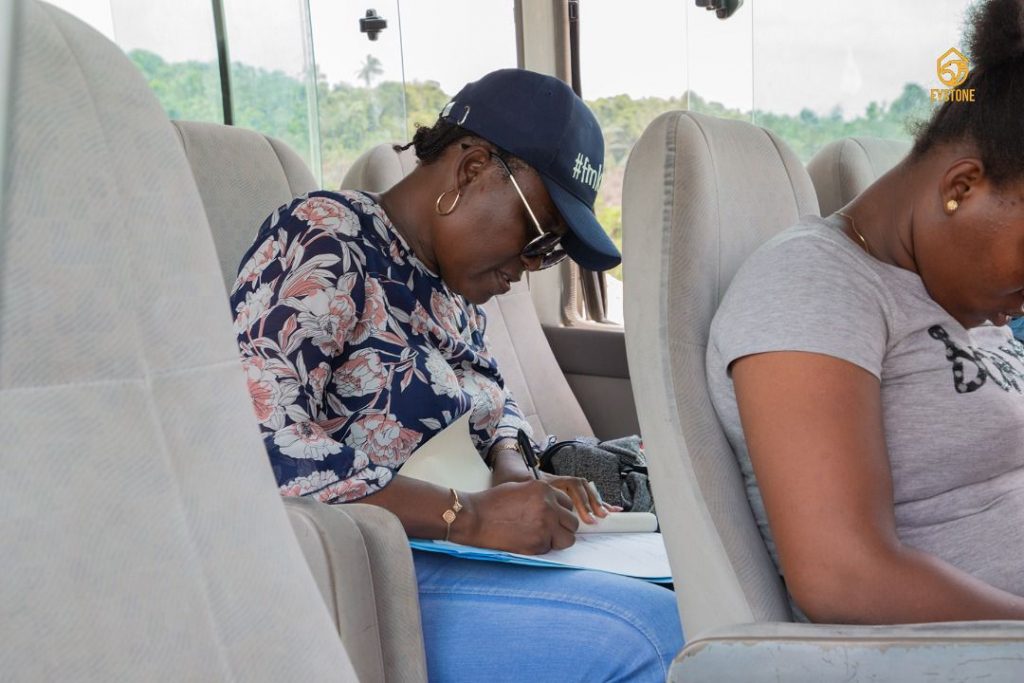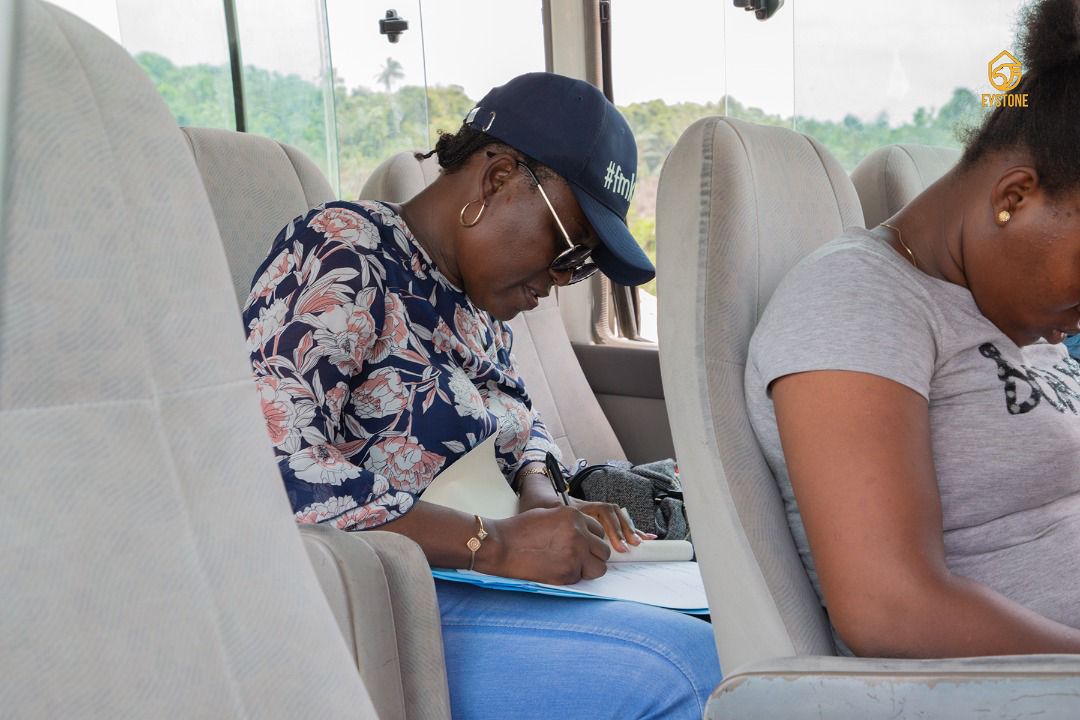 Or what about this one?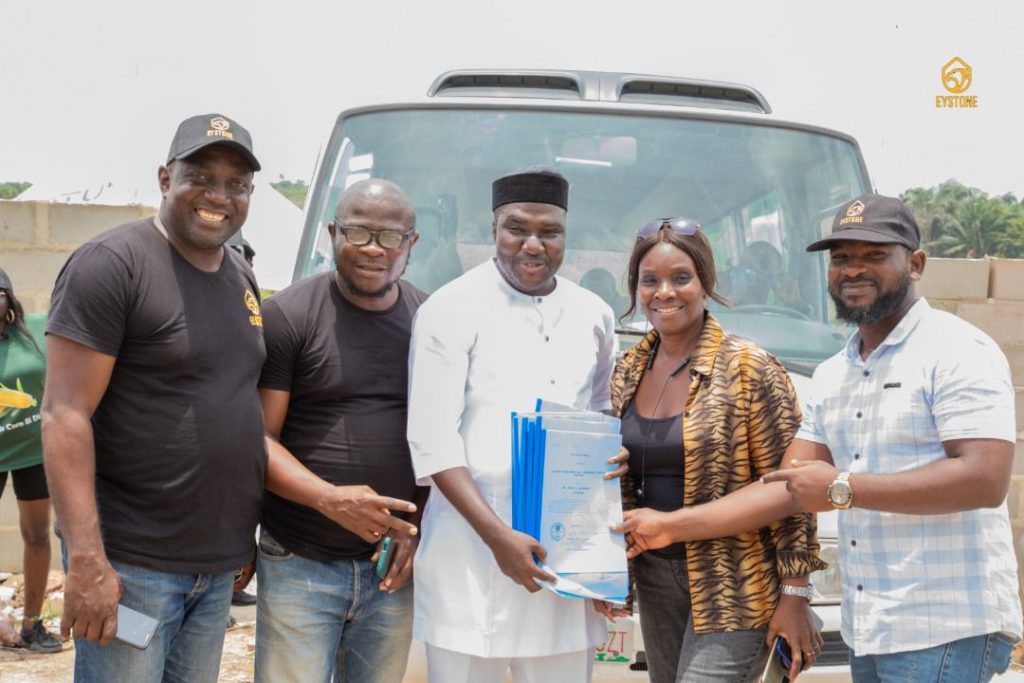 This client used this exact same advice and went up investing 1.5 million into seeing her investment yield 2 million in price within 3 months.
And the results keep going and going…
Because this exact technical advice is key to generating any investor 80% in returns within 8 months.
Today you're going to see the fundamentals of buying a property that appreciates fast and quick.
And these fundamentals actually work wonders.
In fact:
These fundamental tips have helped our company know how to turn an uncivilized location into a high-paying location.
So whether you are new to real estate investment, or you are about to invest in real estate, you'll actually love this guide.
Here are 5 ways you can appreciate the value of a property fast
Keep a tab on untapped property selling location

Know your marketplace and estimated value

Understand the structure plan of the investment

Get hold of the property from a buzzing environment

Create a portfolio that's better than the ones out there
Keep a tab on untapped property selling location
A selling location is a critical factor in property investment.
In the past, you could get away with your most preferred location.
…And you can still see your returns.
I bet you don't know all that has changed.
And why?
You know, in the past, I recall when clients had to wait for about 6 years before seeing buyers for their property.
I'm sure you can relate to that.
That's never a good experience for investors but it's a dead stone in today's real estate market.
An un-potential location frustrates investors and ultimately discourages real estate buyers from buying your property.
Raleighrealtyhomes said something interesting, The location creates desirability, desirability creates demand, and demand raises real estate prices.
Anyone who doesn't understand how the real estate market works will tell you to buy in a good/safe neighborhood. Well, guess what, neighborhoods change, just like everything else.
Don't buy in a good or bad neighborhood, buy in a neighborhood where you can see the future. Do your research when it comes to neighborhoods as well just keep in mind most of the best neighborhoods are going to be more expensive investments.
The fact is:
In the mind of potential buyers, an un-potential location is like – "zero visibility"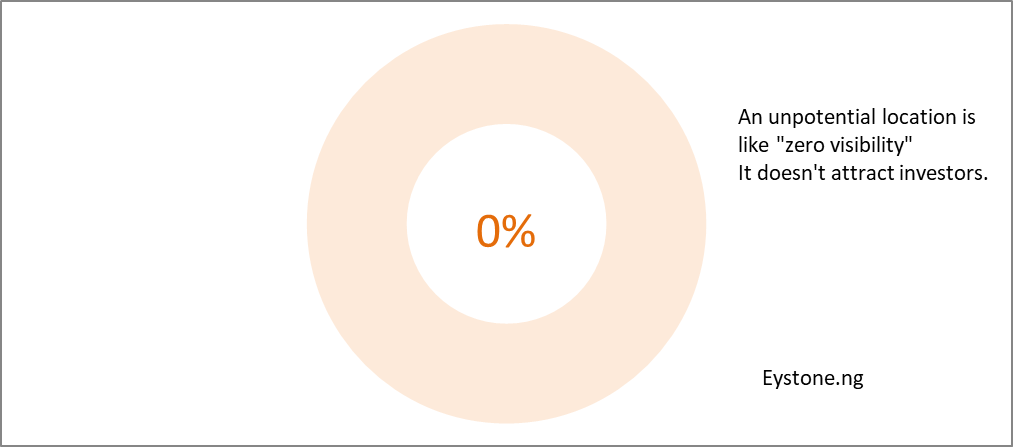 …And what does zero visibility means in real estate?
I defined "zero visibility" as a term whereby potential investors never bothered to book or check out a property for the reason that the location isn't good enough to attract investors.
For this reason, I called such locations – "zero visibility for potential investors"
So, selling locations is vital for any real estate market and for any kind of real estate investment.
As real estate companies become more aware of the opportunities value, there's still a big demand for selling locations.
This means if you have properties that are in non-selling areas, you're fighting a losing battle for your return on investment.
…Regardless of the money, you invested or how cheap you bought the property.
The possible solution? get rid of non-selling locations that will affect your appreciation value.
To learn how to get more chances out of turning an uncivilized location into a high-paying location.
Keep reading…
Know your marketplace and estimated value
First, this shows you how quickly your property investment yields great returns and how quickly potential real estate buyers are going to key to your property and how they become available to investors or buyers.
There's no definite answer to this, but there's one common thing.
#As you know, a land property cannot be depreciated.
For example:
Let's say your marketplace is:
This means, you only buy a property and hold it for some years before you resell it.
That way, the most important metric that you're going to track regularly is the "property value".
That is the return on investment.
Right?
If the vacant land property goes for 1.5 million and in the next 3 years you see an increase in return by 10 million.
You can probably say it's a good buy.
The question is:
Can we apply the same exact strategy to house property?
The answer is, a big NO
And why?
Because there's a big difference in cost.
Invespodia did a wonderful job here:
They said depreciation refers to any condition that negatively affects the value of an improvement to real property including structural problems and roof replacement
Also, you've to estimate the current cost of constructing the buildings and site improvements.
Estimate the amount of depreciation of the improvements resulting from deterioration and economic obsolescence.
Deduct the depreciation from the estimated costs
Add the estimated value of the land to the depreciated cost of the buildings and site improvements to determine the total property value according to Investopedia
#As the rule of the game, if your property's estimated value doesn't yield a "great score", you should make changes to your marketing strategy.
If your property investment is lagging behind here, there's a good chance that potential real estate buyers or rentals are not converting because they don't need what you offer.
For instance:
If you're going for rental property, review the breakdown of the location.
If there're more house owners than tenant hunters, you probably know already that the location isn't a good fit for your market.
So, finding out what market could make people convert could do a lot well.
Understand the structure plan of the investment
Some people think, that buying property is enough to maximize returns.
But, I don't think so.
…Investment structure remains a fundamental part of a smart real estate strategy plan.
You've to ask out tons of questions about what makes up a good investment and the intention behind the real property.
Like:
Constructing good road networks
Serene environment
Tigh security
Constant power supply
Greate amenities
And a good survey plan.
Why?
Because it helps you see great returns and attract real estate buyers fast.
You can't expect to see great returns if the company is not willing to give first.
For instance:
Like eystone: we specifically make sure that will map out the structure of the estate to our investors.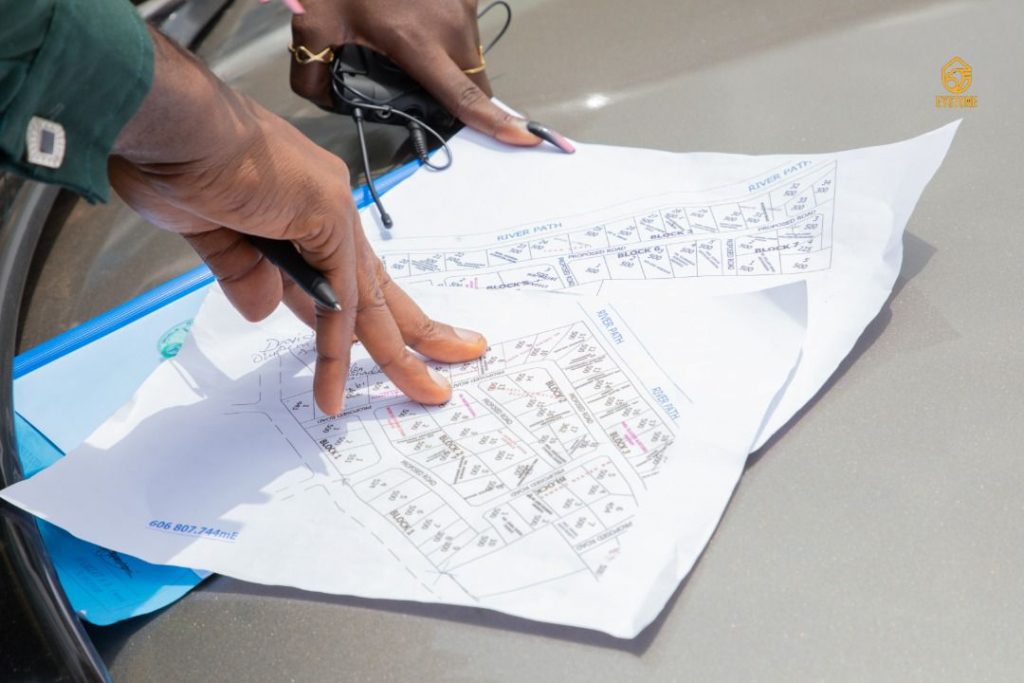 At least, before they get a hand on their investment.
And why?
Because we have to prioritize customer experience and satisfaction over the actual sales funnel we made.
Instead, we give the best experience to our customers, people that are looking for real estate companies that keep to their words.
And that's why thousands of investors trust us.
Because we do almost everything differently and uniquely.
First, we try to educate our clients about possible ways they could invest better.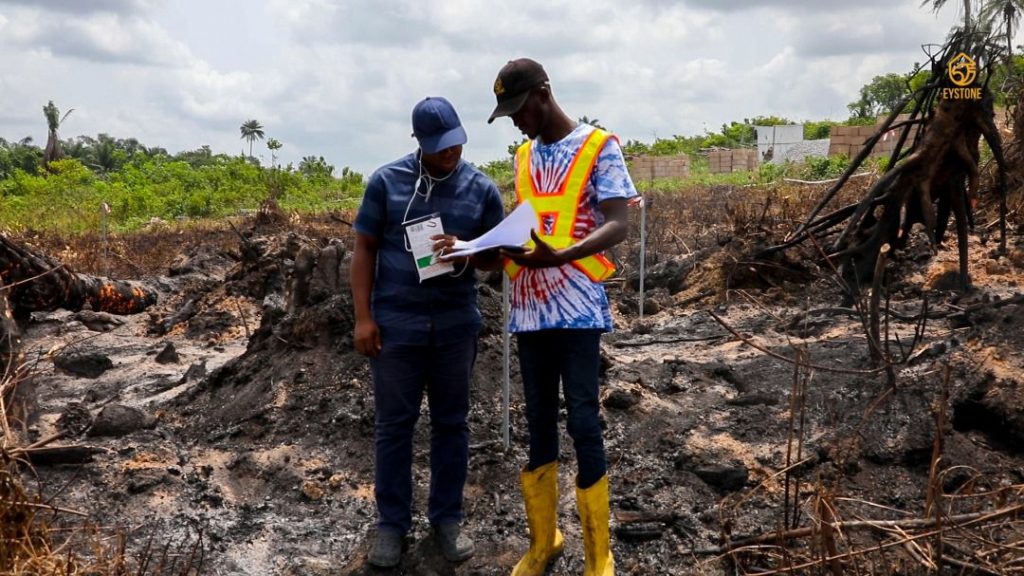 And what exactly our futuristic plans are for our investors.
As you know, we have more and more real estate companies in Nigeria that are going back to the old method of getting clients where purchase intent (get consumers to buy) is what the majority focus on which surpassing the real value of engaging and educating with real estate buyers.
And that's a wrong approach.
In fact, we did recent research and we discovered that: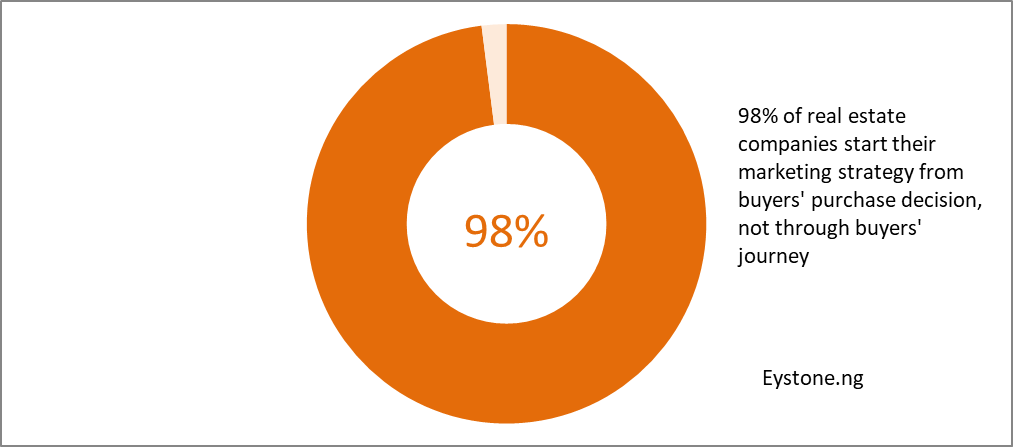 98% of real estate companies start their marketing strategy from buyers' purchase decisions, not through buyers' journeys.
Get hold of the property from a buzzing environment
If you're not buying property from a buzzing area, it can be hard seeing conversion.
Just consider these statistics:
An astonishing 49% of land area fails to bring returns.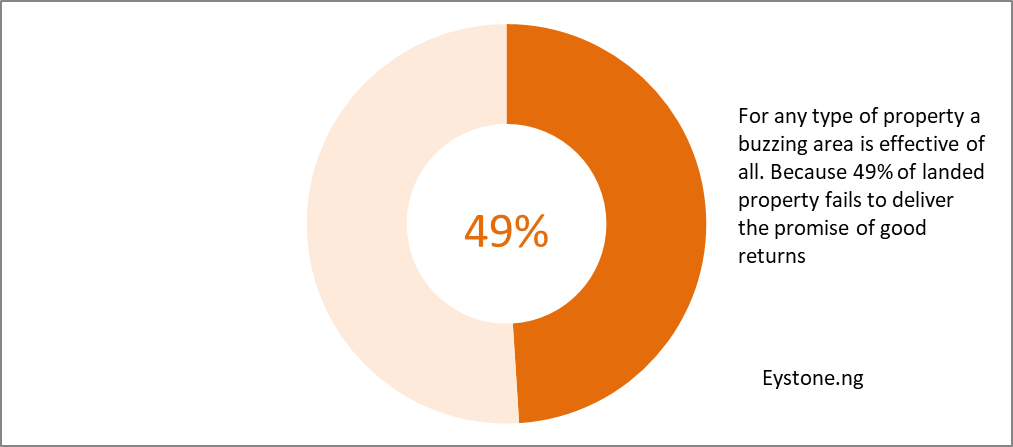 For any type of property, a buzzing area is effective of all. Because 49% of the landed property fails to deliver the promise of good returns.
In other words, there's a whole lot of market out there that isn't doing what it should be.
Fortunately, a buzzing environment is something investors should look upon and get better at with a little bit of strategy.
For instance, take Ibeju Lekki:
When you buy property in Ibeju Lekki, you get:
Lekki- Epe international airport
Lekki free trade zone
And Lekki deep seaport
Attractive tourism(Lekki tourist center).
The benefits:
Flipping land is on high returns
There are over multi-billion-dollar investments (such as Dangote refinery and Dubai smart city)
Investing in rental property brings over 400% returns in 1 year
Over 150 developing best estates in Ibeju Lekki
Like in this article: Why you should start investing in Ibeju Lekki.
I wrote something like figuring out the best location: You can check that guide too.
I'll explain…
Fortunately, figuring out a location with a high opportunity rate isn't a hard or complicated process.
In fact:
If you study most trends on a regular basis, you probably already have a good idea of what type of problem might possibly occur and the solution that can help solve it.
And if you want to dig deep into what the future possibility actually is.
First, you have to look out for what benefits the location brings to the residents and investors.
This free idea helps you create a fundamental approach that you can share intimately in your investment journey and see great returns.
…You can see how this looks promising.
If you don't have a buzzing location, you can't have a buzzing market.
It's just that simple.
Finally,
Create a property portfolio that's better than the ones out there
If you can create a portfolio better off than your competitors.
Your property will definitely stay ahead of them.
The question is:
How do you create a proven portfolio?
…You can use this one simple step-by-step technique:
If you're just starting your investment afresh, creating a better property portfolio is a great way to distinguish you and grow your real estate investment.
But, there's one problem:
It's really hard to found out the right portfolio for your property…
Like:
New modern design
Interior look
Exterior look
New technology gadgets
Well standard housing equipment
Up-to-date amenities
Powerful equipment gadgets
In fact:
One industry study found that there's a perfect balance of risk and opportunity.
According to Wordfinance, not only does diversifying a portfolio lower an investor's exposure to risk, but it also maximizes the potential for capital appreciation.
For example, a diverse portfolio might include property 'A', in a well-established location where prices are higher so the investor might choose to buy a smaller unit in the city center.
A one-bedroom that appeals to a professional tenant, close to transport connections and key business hubs.
For property 'B,' the decision will be to purchase a student let property, a new build in a popular student area near top universities.
And For property 'C,' a commuter location, a tertiary town, or an 'up-and-coming' hotspot that has excellent transport connections, modern property is within a minutes' walk of the travel link to the nearby business hub.
The solution?
With a great property portfolio, is mind-blowing but you have to spend big.
And for a good reason.
Property with a new modern design gets faster returns and attracts investors(home and abroad) quicker.
The only problem is: you only have to spend big.
And a great property portfolio takes more work than a regular portfolio.
But, you have to be sure of your returns.
Which is a good sell.
Conclusion
Now that you already know how to buy a property that will bring you a high return on investment.
If you are probably thinking about how to invest, don't forget that we will walk you through everything you need to know to generate good returns for your investment.
All you need to do is to start a live conversation with us or subscribe to our newsletter, we'll reply in minutes.
And don't forget to share this super helpful guide.