In this guide, I'll walk you through how to use real estate marketing to attract online buyers.
In fact:
This is the exact strategy that I used to generate tons of impressions within days.

Not just that:
This is also the exact strategy I used to generate thousands of impressions for a single blog post within a day.

Another fact:
The same exact blog post also ranks for over 300 queries within 24 hours of publishing the article.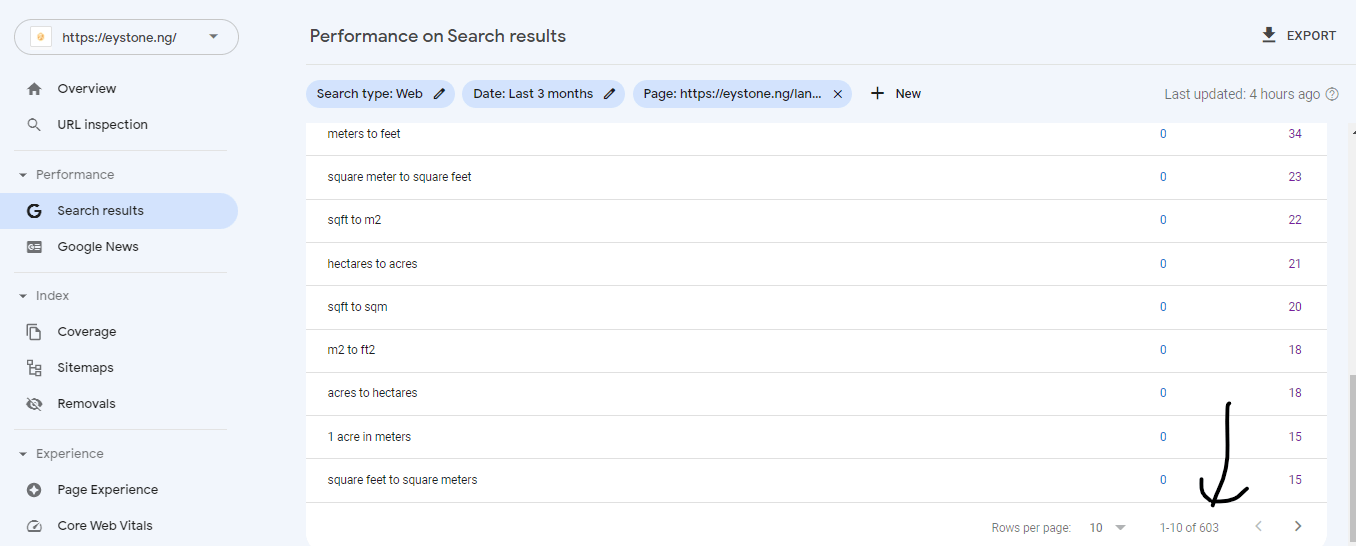 What about, the keyword "real estate SEO?

This exact keyword ranked for over 700 queries within 3 days.
Or, the keyword "land for sale"

This same exact keyword starts to rank for over 200 search queries within 2 days.
And lastly, what about the keyword "real estate investment"

…And still counting.
The question is:
How do I manage to rank these terms for several keywords?
Well, I'll show you the simple strategy you can use too.
In this guide, I'll show you exactly how to use real estate marketing to drive potential buyers to subscribe to your offers…step by step
Just like this one below: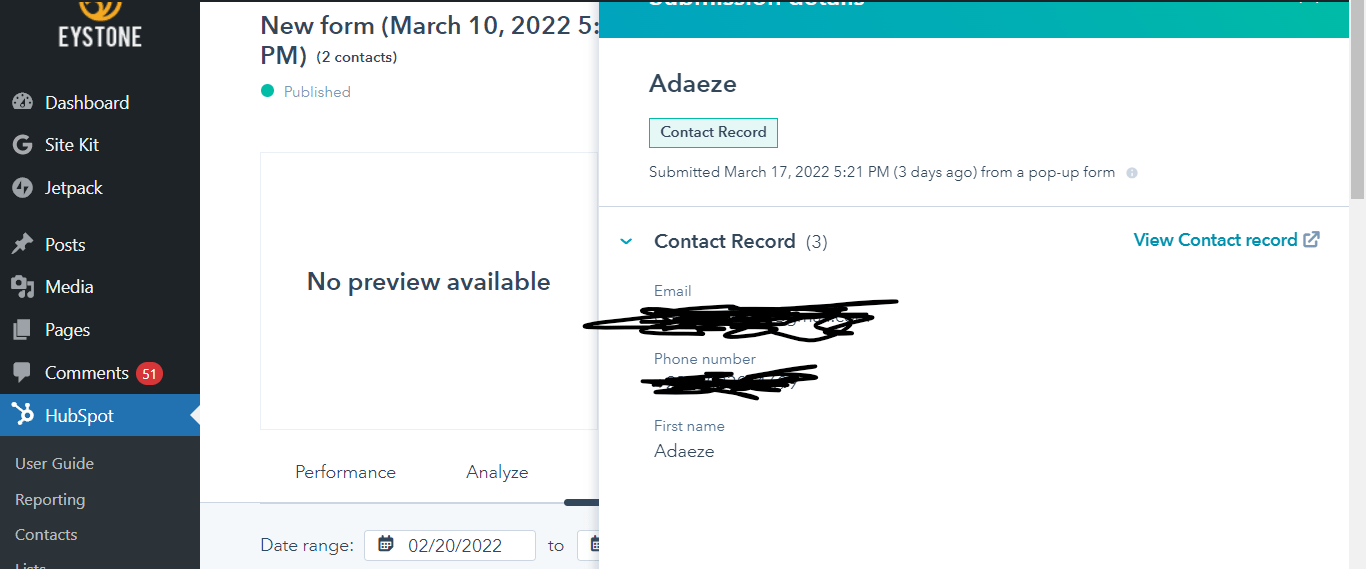 So if you want to use real estate marketing to drive 15x more qualified leads than your competitors, you'll love this exceptional guide.
Let's get started.
Here's how to use real estate marketing ideas or strategies to 10x online buyers:
#1 – What is real estate marketing?
#2 – What is a real estate strategy?
#3 – Why is real estate marketing important for your online listings
#4 – Brainstorm on selling headline
#5 – Discover untapped real estate keywords
#6 – Use persuasive content to attract buyers
#7 – Create your own brand story
#8 – Use email outreach as your digital marketing strategy
#9 – Run ads for your real estate services
In the next chapter, I'll answer the question, "what is the meaning of real estate marketing"
I'll also show you why real estate marketing should be part of your online strategy and why it's still important for your online real estate listings and visibility today.
…Let's dive in
So, where should I start?
Okay, let's start this way.
What is the meaning of real estate marketing?
Real estate marketing is the art of marketing using resource outreach(such as webinars, email marketing, blog, infographics, paid ads, SMM, SEM, and videos) with the goal of driving qualified buyers into your sales funnel.
Sweet!
Put in another way:
What is a real estate strategy?
Real estate strategy is the creative art of using marketing tools like email outreach and marketing KPIs to generate leads and convert buyers into your sales funnel.
Why are real estate marketing strategies important for your website and online listings?
To understand that:
You'll need to know "what is online listings"
Here's an example:
Press – Google
And type "land for sale", you know I made it generic, I didn't include "land for sale in Lagos"
What do you see?
You see something like the one in the screenshot below: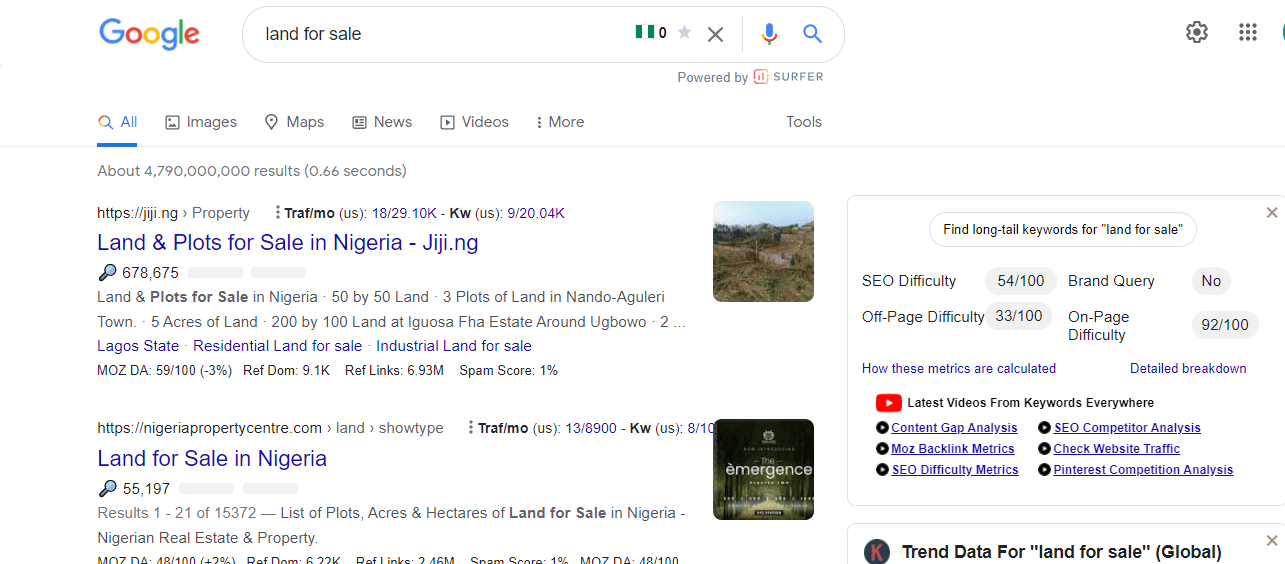 #As you can see, there is a list of websites ranking for that term.
Google pulls out these websites because they believe they are relevant to the searchers.
The quick way to make it more accessible.
Try to click on the #1 result in the search result lists.
You get:
List of properties, with locations and prices.

Right?
You might be wondering.
Why do I have to show you all that?
Well, it's just simple.
You might want your real estate website to gain visibility in the search results but if you are not optimizing it for search engines, you can't do well.
And the results? zero visibility.
That's why I want to help you avoid that.
If you're ready, I recommend that you continue reading this guide.
This takes us to our next step.
Brainstorm on a selling headline
You might be wondering.
Why I didn't mention anything like selling products.
Well, I didn't.
And here's the reason.
If you want to compete in the search results in terms of products and services.
You have to know that you're trying to walk on a long journey.
In fact:
The bitter truth is, it might not even happen.
The best advice? don't try to come up with such ideas.
Do you need more facts?
Here's one example:
Online buyers are more likely to click on products of brands they're more familiar with than vice-versa.
So when you are trying to build your brand's reputation(and your authority), you can increase your chances by writing informative articles that will help them in their buyer's journey.
If you do this:
What happened next is that after they've encountered your real estate business multiple times, chances are they'll likely convert for your offers and subscribe to your email list.
Great, right?
As a startup, if you don't have millions of nairas to spend like these big brands.
You can still brainstorm on some real estate marketing tactics that'll help you stand some chances.
See how that works:
The better your value, the higher your rankings, the better you build visibility, and the better you grow authority for your real estate business.
These are real estate tips and tricks that have been working extremely well for a long time.
So, how do you come up with selling content?
Take a look at this:
If someone lands on your landing page.
They said, the first 3 seconds of impressions matter.
Then, how do you get the ball rolling very fast?
First,
Don't make your intro looks boring.
I guess you would love to make it more actionable.
In other words, avoid boring intros.
But, get straight to the point with something like this one below.
Well, that isn't a huge sacrifice.
There's something else that is catching buyers' purchase decisions.
So, let me show you exactly what it is.
For example,
Let's say you sell property in Lagos, Nigeria.
If you have a "house for sale" you want people to know about it.
That's right.
Then, here's how to go about it.
First, a compelling headline.
As you can see, this guide headline is super actionable.

You can come up with such marketing ideas too.
Yours can be:
15 ways to buy a high-value property in Abuja
7 secret real estate agents never told you about houses for sale in Lagos.
7 things to look out for in a house for sale on banana island
And more.
It's colorful and exact.
Considering that you are targeting buyers in Lagos and Abuja.
Churning out this guide is more important in their buyer's journey.
After doing that, the next step is:
Discover untapped real estate keywords
I recommend Google keyword planner for a good start.
Especially when it comes to finding long-tail keywords buyers are searching for.
To understand that:
Here's how to use Google keyword planner for sweet keyword research.
First, head over to the keyword planner
#As a bonus
If you already know what keywords your potential buyers are searching for, that's a plus.
But, here's one I come up with.
For example,
Let's say wanted to rank for the keyword "real estate investing"
You probably have to head over to the discover keyword tab.

Just search for the topic "real estate investing" and see which volumes and related terms pop up after.

If you're not satisfied.
You can pop your competitor's website that is currently ranking in the search results for the same exact term.
To do that:
Just pick up one of those web pages that are already ranking in Google and see which terms they are ranking for.

#A plus
Look for terms that they rank highly for in the search results with low competition.

If these keywords have a lot of search volume, chances are they're searching for that exact term in Google.
For example, when I looked at the term "real estate investing" using Semrush, this exact term come up with a search volume of over 2k monthly searches in Nigeria.

They are not alone, with over 50k monthly searches across the world.

These are keywords that I would have never taught potential investors are searching for.
That's crazy.
As it turns out, keyword research is a game-changer.
And why?
Keyword research allowed you to accurately measure how users navigate with the search results and understand users' search intent.
So, how do you accurately start keyword research?
The answer is:
#Work up with a buyer's search intent keyword.
…Using keyword research tools aren't enough to come up with a proper headline.
…You have to do something different.
And that's:
Use search intent to rank your real estate website fast.
Because that is the simple way to promote your real estate listings online and it's also the best marketing tip that attracts online buyers.
Why?
If you use search intent to create a catchy headline that increases your click-through rate in the search result lists.
That tells Google.
People love this result. And it's the exact fit for this keyword.
Let's boost its ranking to the top of the page so it's easier for consumers to find.
If the reverse is the case, Google will drop your site like a dead stone.
And that's why optimizing your site for better organic click-through-rate it's so important.
One of the easiest ways to come up with these ideas is through keyword research.
After that, your next step will be:
Use persuasive content to attract potential buyers
Write persuasive content that is 10x better than your competitors.
I'll explain.
It's no secret that compelling content gets more social shares.
And more social shares = viral content = higher visibility.
But, there's a problem.
I'm sorry, you don't have to come up with compelling content anymore.
If you can come up with persuasive content you're going to do well.
And why?
It's just for one goal.
…You want a return on investment.
Right?
Not bad.
Of course, it's all about selling your properties. You don't just want people to see your content and say it's informative.
But, you would love them to complete a specific task.
Right?
Okay. Let me show you a real-life example.
Enter – Google.
And type "how to start an eCommerce website"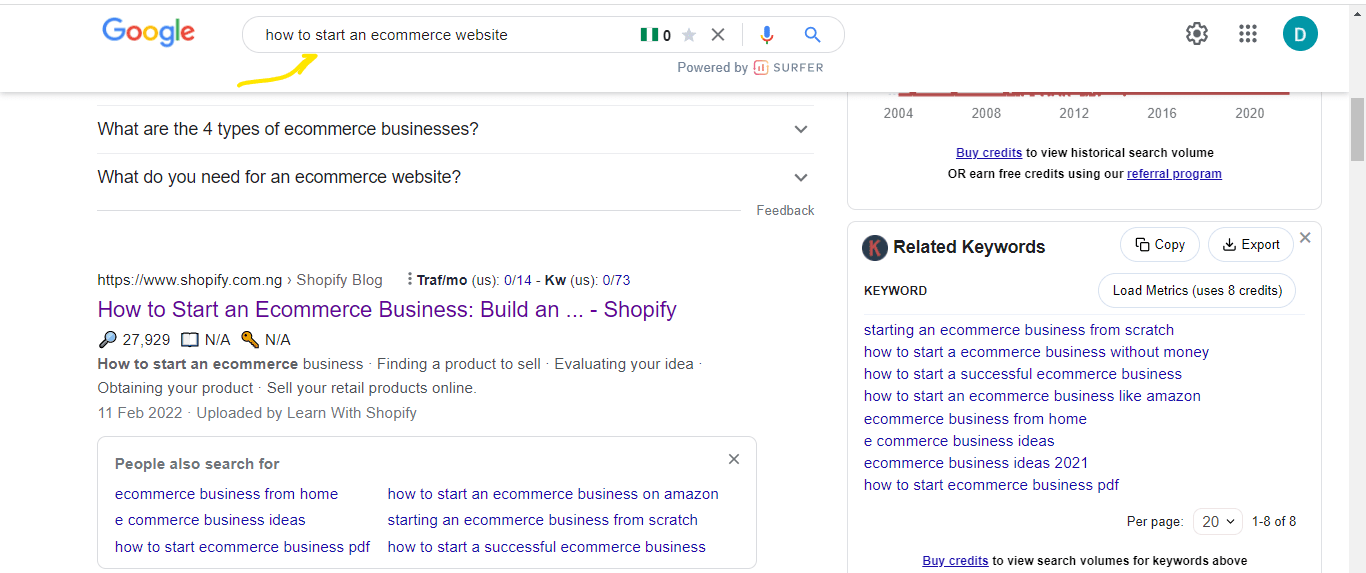 First, as you can see, in the intro.
Shopify introduces a video, trying to sell its product to new users.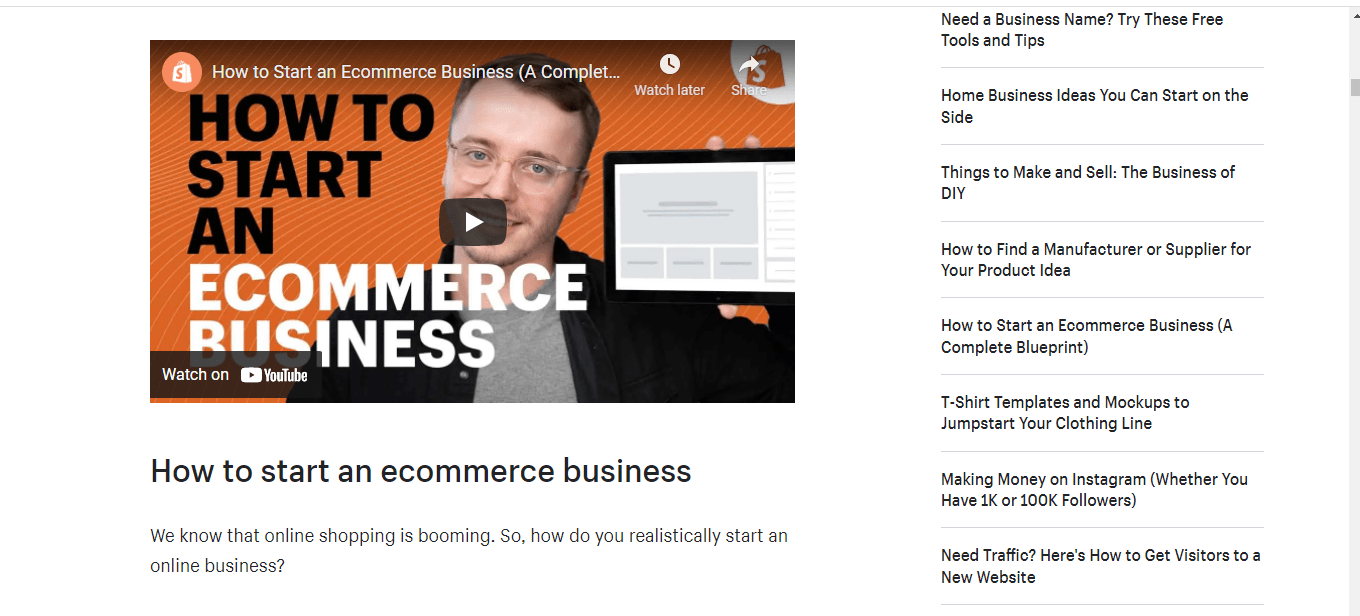 It doesn't stop there, if you click on that video, you'll see that they talked about everything you pretty much need to know about their products.
In that case, they refer you to the video.
That's a great marketing tactic.
What do you see next?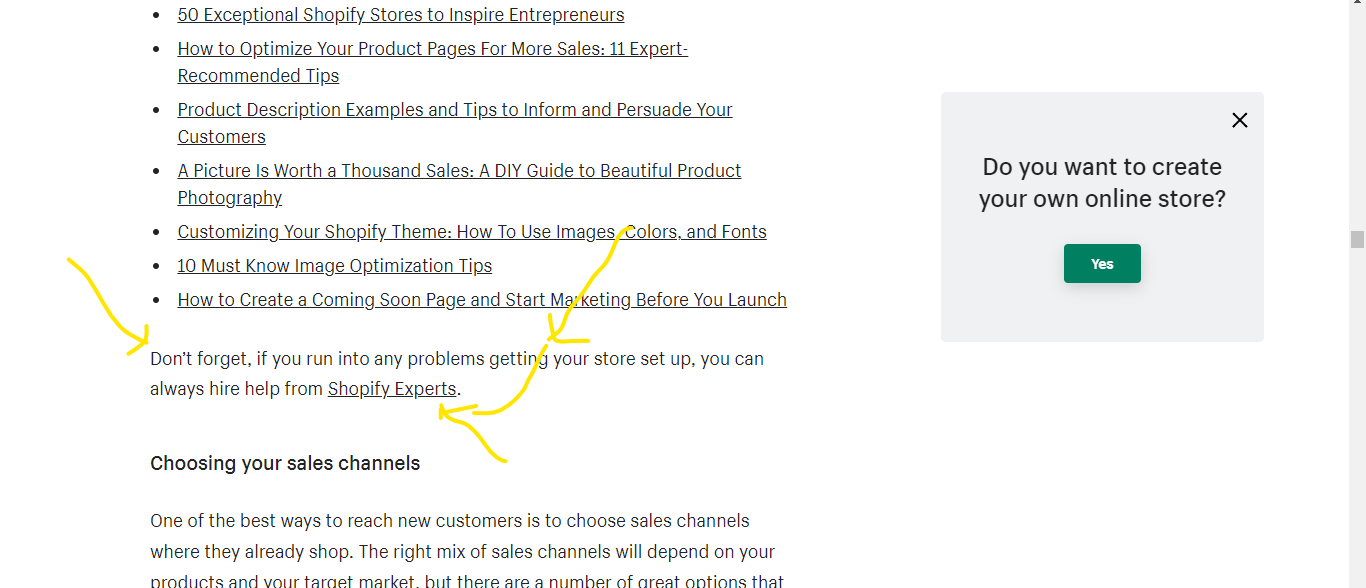 They're trying to let you know they have a solution if you probably encounter some problems.
That's super clear.
First, they understand your needs they know you have a problem.
And with keyword research, they've probably used it to find out the exact queries you type in Google.
Then, they come up with a proper marketing plan to resonate with your needs.
It's just that simple.
And here's the thing.
Creating converting-worthy content isn't that hard. It's all started with how the content itself was organized.
From lots of testing, I've found that persuasive content resonates with buyers easily and increases buyers' intent rate fast.
And marketers prove the fact too:
According Ometrics,
Persuasive words can make all the difference. Whether you're building a better sales page, creating a call-to-action, or writing the perfect subject line for your email, finding the words that pull your potential customer in will convert your readers into loyal buyers.
Now, it's clear, if you don't use actionable words with targeted call-to-action, chances are potential buyers would convert.
They'll bounce back the same way they landed.
#As a result, you probably don't want that to happen, you can follow these rules:
Integrate email newsletter in your blog posts or website
Direct them to your product page
Direct them for inspection and more.
That said.
A call-to-action brings you qualified leads and sales-ready customers.
And some of these people might share your content if they love it, which can help your rankings, reputation, and authority on the web.
And now that your website is optimized for leads-generation, you want to make sure your page's SEO is good enough.
This article here will help you out. I want this article
Create your own brand story
If you want to drive more qualified buyers, you must learn how to come up with a good brand story.
This is one of the best practices of real estate marketing advice I've ever seen.
This is a good start.
When you create something super helpful(like product, branding, or how-to story).
The result is:
You are the only person trying to launch that opportunity.
In fact:
According to Linkdex,
A brand story isn't just a valuable marketing asset, it's also a brand's guiding principles and impacts every facet of the organization. In other words, it's not just a marketing message, it's also a sales pitch and a roadmap for the C‑suite.
And if your brand story gets some love, you'll suddenly climb #1 on Google's first page.
Let me show you an example:
A while back I published a guide: Land flipping – how I made 2 billion in profit.
What did I do next?
I optimize my post around the keyword "land flipping" but I decided to create the post in my own story.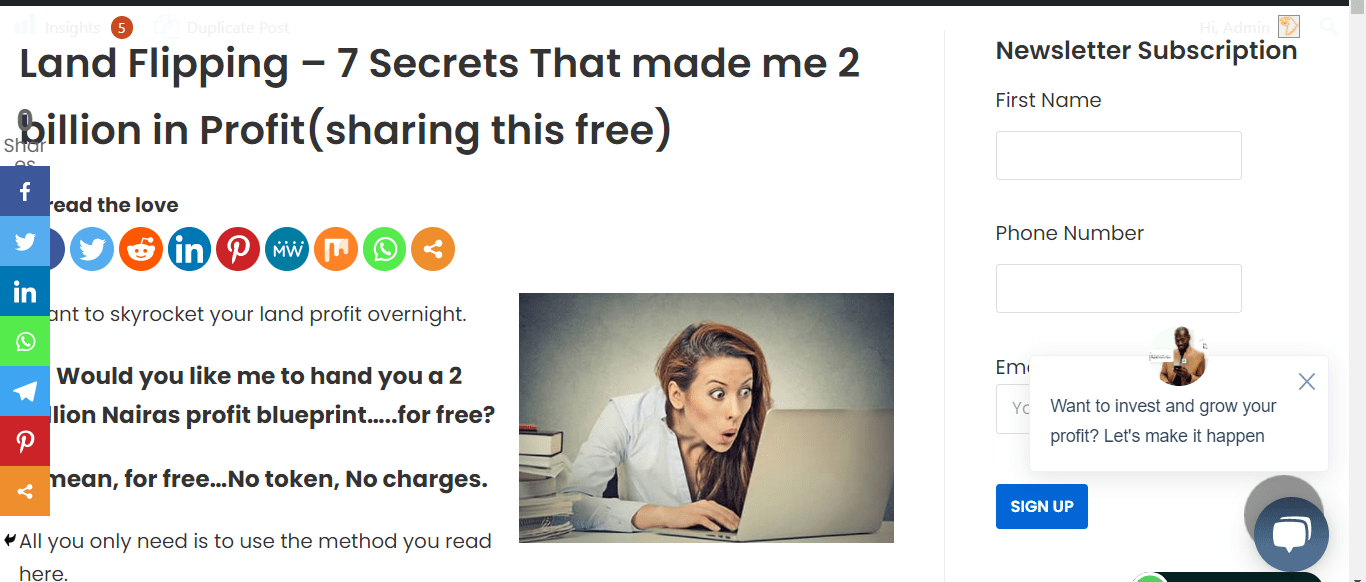 Today, it's started ranking for a stream of keywords within 5 days.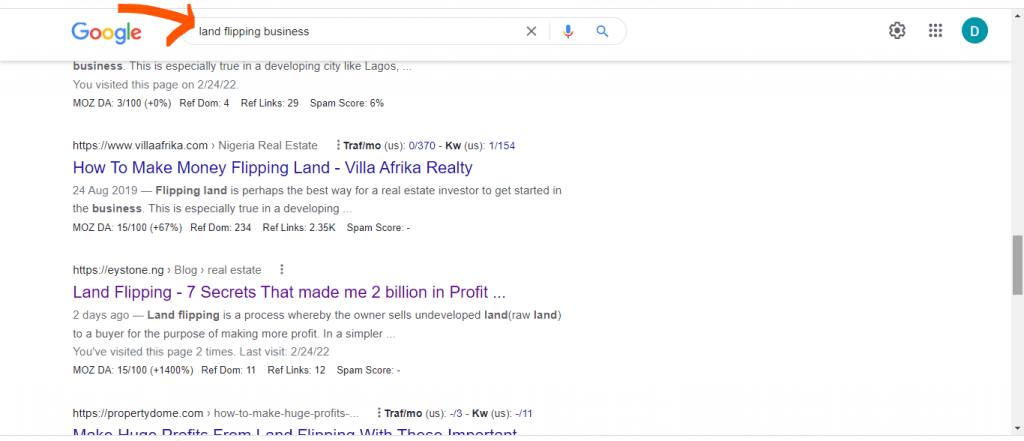 How can you achieve the same thing?
The next time that you are about to write a new guide, I'll advise you to come up with your real estate brand story(whether it's sales tips, or how you grow your real estate business from scratch) name it.
With great precision.
Use email outreach as your digital marketing strategy
It's great to use email marketing for nurturing leads.
It helps convert complete strangers into high-paying customers.
When you collect leads from a sign-up form, the faster you get high-click-through-rate and sales-ready clients or buyers.
But, how can you do that?
You can come up with a sales pitch like the one below:
Hey! Mr Digital Marketing in real estate

Glad that you sign up with our newsletter.

But, we've got something more interesting for you.

Because our latest post highlight how you can become a better investor.

We recently published this in order to help you in your real estate investment journey.

Want to check it out? I bet you would love this guide.

Cheers!

Mr. Digital marketing in real estate
If you can pitch your subscribers with outreach like this for every of your blog post or latest product update.
I bet that chances are you'll generate a 55% increase in response rate.
In the world of email outreach, straightforward pitches get better conversion.
You've to get straight to the point with a persuasive voice.
That's the best bet to convince a new investor.
According to digitalschoolofmarketing,
If you don't grab your reader's attention from the get-go, persuasion is not even possible. They will overlook what you have to say and then get on with their day. In most cases, the greatest way to grab someone's attention is with a title or headline. This is the first thing that someone sees and -most of the time – they will decide whether to stay reading based on the title or headline.
There are more headline-writing tips out there than you can shake a stick at, and many of them are very effective. Asking a pertinent question, making it into a how-to, suggesting exciting benefits, or throwing out an interesting statistic are all concepts that work. Your job is to work out which ones work best at which times.
After all, when the stranger sees it using persuasive words that cement 90% of their buying decision.
Real estate video marketing
To do that:
First, create a youtube channel for your real estate marketing.
After that, select the keywords you want your Youtube channel to rank for.
For instance, you can see I choose several relevant keywords for my channel in the screenshot below.

That way, if any user searches for terms related to the keyword on Youtube my channel will likely appear.
Sweet!
You can also apply the same exact techniques to your Youtube videos.
All that you need to do is to add real estate Youtube tags to your video for higher visibility.
Just like this one below:

And then you're fine.
Run ads for your real estate business
Whether you want to promote your real estate listings, products, or website that will generate leads fast.
You can achieve that using this strategy.
I've seen this real estate marketing works over and over.
And the results? It's that tons of marketers benefited from this strategy.
And you can too.
So how do you achieve that?
First,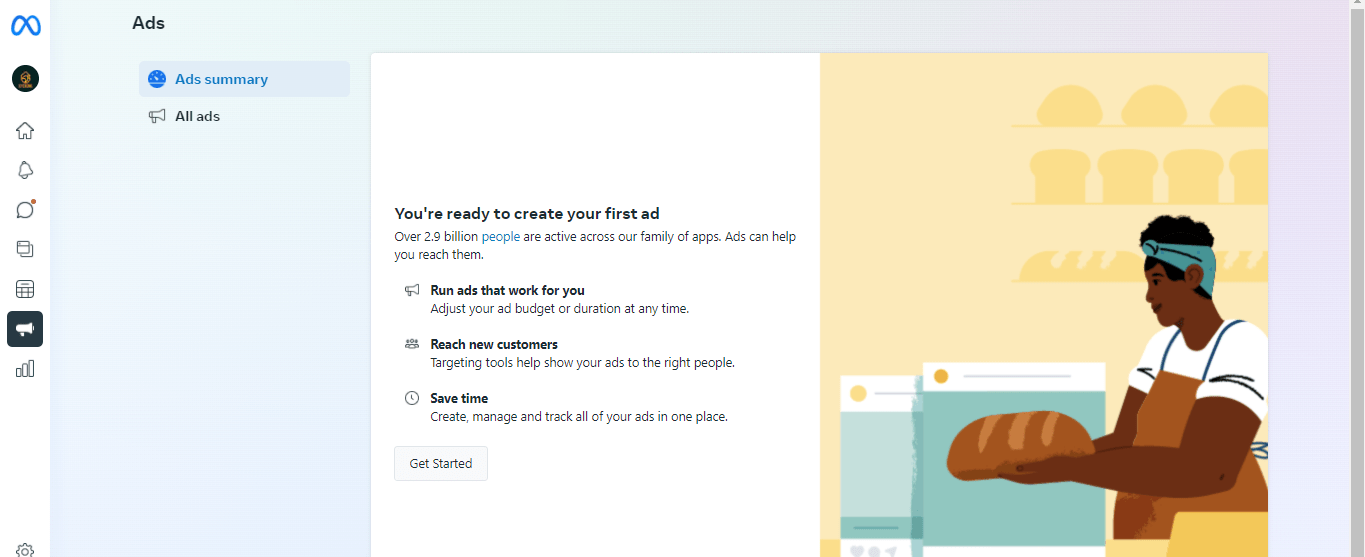 Next, you'll see options of objectives you can choose from.
The next step is, you have to set up your ad campaign and ad budget.
#pro tips – the higher your ad bid and relevance the better your conversion.
Facebook ads work with an auction system.
Higher bids + relevance = better performance.
Another advertisement marketing you can use is:
If your real estate business leverages more videos, you can utilize the power of video marketing(such as Youtube).
It cost nothing, it's free.
Then, after you create your Youtube channel, you can as well run Google ads for higher visibility and engagement.
Conclusion
Now that you have a better understanding of using real estate marketing strategies to generate qualified online buyers.
And if you're thinking of investing in real estate.
I've got some good news for you. My team will gladly help you get a better investment.
So, don't forget to subscribe and share this guide.