How do you think real estate investment in Nigeria works?
…You probably think it's all about investing money and seeing great returns.
I bet you don't know that a lot has changed.
And that's why I'm going to tell you what really changes.
Do you want to learn everything about real estate investment in Nigeria?
Before I teach you how it works and how to invest, let's first go over the definition of real estate investment, and then we will drive into how real estate investment in Nigeria works.
What is real estate investment?
Real estate investment is the process of buying or leasing a property for the purpose of generating higher returns.
To make it a bit simpler,
Real estate investment involves buying properties for the purpose of seeing a high return on investment.
Let's break it down even further:
The fact is:
Nigerians have always been interested in real estate and there are plenty of reasons to invest in a property including the fact that property prices are going up every year.
This means that your interest rate will keep growing overtime…
To better understand why:
…Buying property in Nigeria is the most secure and long-lasting investment one can make in his or her youth and even at an old age.
Put it another way:
Another reason to own real estate property be it bare land that you will develop eventually.
Or already finished space is the fact that you get to transition from paying rent all year round to having your own home where you can retire comfortably.
The secret?
…You'll have where to call home forever
In fact:
Nigerian real estate is a serious business.
As a matter of fact, it is one of the most lucrative industries in Nigeria and has been so since the country's inception.
(when done right)
…You can see great returns
Over the years, more and more people have invested in real estate in Nigeria and they continue to do so.
For most investors, it is the biggest industry with the promise of a great return on investment.
And it's one of the leading industries in the country.
In fact:
45% of investors now trust the real estate industry more…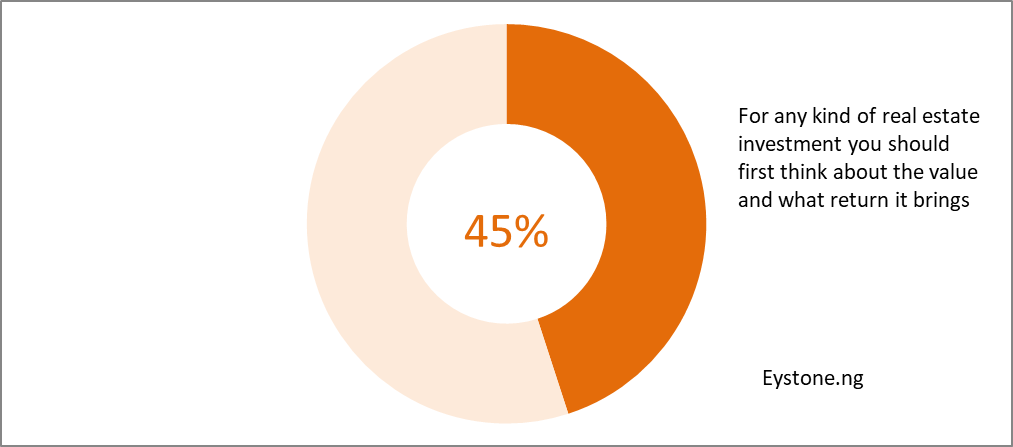 For any kind of real estate investment, you should first think about the value and what return it brings.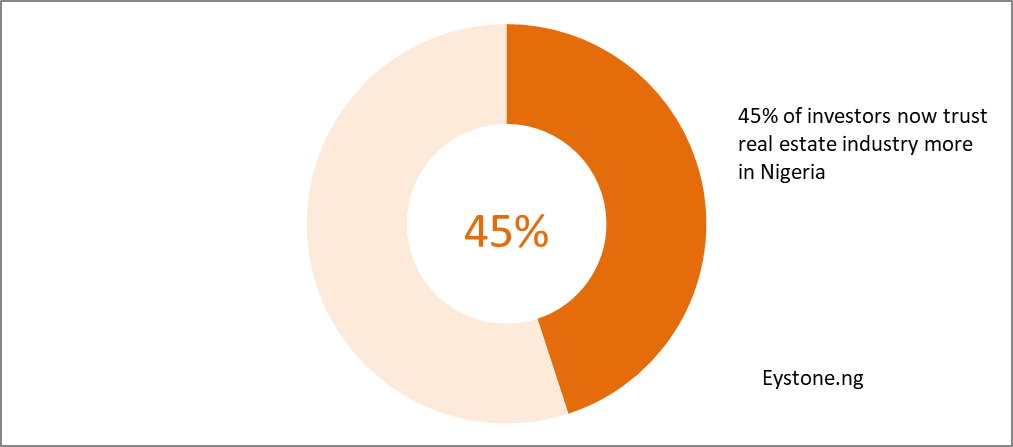 45% of investors now trust the real estate industry more in Nigeria…
…It's no exaggeration
(That)
Thousands of people have made fortunes from the industry and if you wish to be among those making waves in the industry then this guide is perfect for you.
Because:
The ultimate goal of this article is to help you understand the ins and outs of real estate investment in Nigeria.
This article will help you get acquainted with the step-by-step action plan you need in order to get going in investing in real estate.
Another real estate tip?
Also mistakes to avoid if you choose to invest in a property.
But,
First thing first, this is especially for those who are basically new to this scene.
You'll need to know the basics of real estate investment…
As I'm sure you wouldn't want to throw away money to the wind by getting scammed out of your hard-earned money.
#pro tips
Location vs Nature of property
This determines how huge your return on investment will be.
But there's one big problem with most real estate investments in Nigeria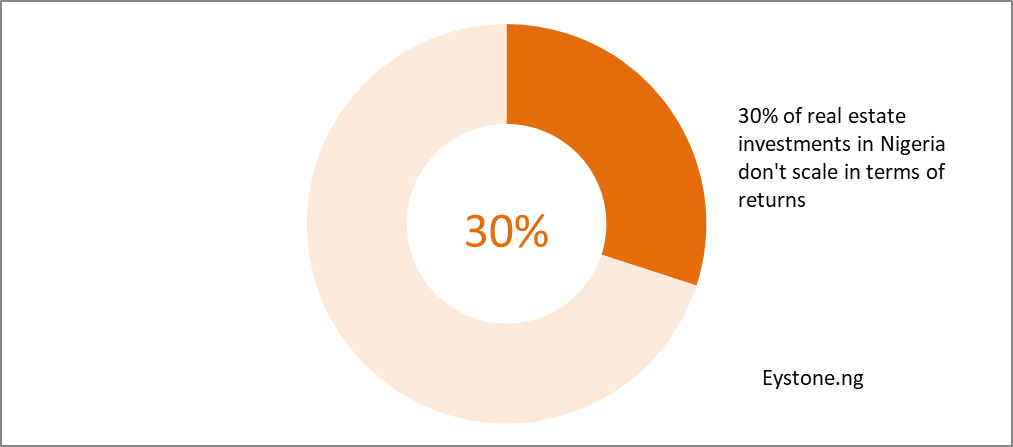 30% of real estate investments in Nigeria don't scale in terms of returns
The question is:
…What is the solution?
…Try out a selling location.
Here's why.
If you don't invest in a selling location it's going to be hard to see a high return on investment and maximum profit.
This way.
You'll need to do proper research at scale.
For example:
In Nigeria, Lagos state is the hub of real estate due to its large populace and opportunities.
It's always a hub of activity and as such living spaces are in high demand.
In fact:
Property pro gave statistics feed that rent in Lagos is higher than rent in West Virginia and Iowa.
This means that when you own a property in major areas in Lagos, you stand at the advantage of getting a higher return on investment.
To invest in real estate, there are three(3) known ways which are:
By purchasing built houses
Buying bare land
Land banking
These three property types all have different price ranges and depending on your long-term plans you can choose which will be more favorable for you.
That sounds great. Until I show you some property types:
The two major real estate property types are:
Residential real estate
Commercial real estate
With residential, you are buying a property that can be rented out as living space.
Commercial properties
They are mainly owned by businesses or as office space for companies.
If you're to come up with an idea…
First,
Before buying residential properties, you need to ascertain if the basic amenities that make living easier are readily within that location.
As this will increase the value of your property in the eyes of the prospect looking to either rent the apartment or lease it.
Getting to understand all these will help you choose your investment options wisely.
Another important piece to note is that you need to employ the service of someone whose job is to make property hunting easy and stress-free.
…Such a person is called a Realtor
In fact:
The process involved in acquiring properties can get quite stressful and very time-consuming.
But if you wish to have a better experience then hiring an experienced realtor to be by your side on this journey will go a long way to smoothen out all the rigorous processes involved.
Better still:
You can hire a real estate company and we're ready to help you out.
#Another pro tips
Having a lawyer on the ground is quite effective to help make sure that you don't get into law squabbles and lose more than what you plan to invest.
This way:
You need to know that investments do come with lots of risks.
But one way you can make the most of your investments with minimal risk is through the steady flow of profit over the years.
Now that the basics are covered:
Let us get into the step-by-step process you need to follow to make the most of real estate investment in Nigeria.
How real estate investment works in Nigeria – 5 super tips
Property research

Get a real estate agent

Physically inspect the property you have in mind

Close the deal

Transfer of ownership
Property research
The first step is property research.
Imagine driving a car without having an idea of how to move the steering to control the car.
A situation like this will only end in a car crash that will hurt you and the others involved.
One that could hurt you. Big Time
…And that's right
Now imagine starting your investment project without having basic knowledge of the matter.
You would be sure to fail woefully at it.
To get better insights, you need to find those who are already real estate giants.
Two such persons are: Mr. Hassan and Mr. Kosoko
CEO and COO of eystone development with over 10 years of experience in the industry.
Because:
Before buying property in an area, make sure you do your due diligence by asking all the necessary questions like:
Title documents of the land(CofO, excision, Governor's consent, and more).
Documents showing the proposed property is owned by the said seller
Is the land in dispute?
Is the government aware of the sale?
Are these fees attached to owning property in that area such as tax or community charges?
Is it a commercial or residential site that has a building plan permit?
These are just a few questions you can ask to make sure you don't fall into scam sales.
Get a real estate agent
In fact:
Get…
Preferably one that is quite acquainted with the area you wish to invest in.
This will make your search easier as all you would need to do is give details about the specification you have and the agent will narrow down your options.
Best option?
You can get a real estate agent online, just by searching for real estate agents in that area on Google.
And when their website pops up, you can find out information about them and choose the one you are more comfortable with.
Any other options?
Referrals are another way to meet quality realtors, this could be a referral from close friends.
Or someone who has bought directly from a real estate company in that area you are interested in.
…One important piece:
Visiting a real estate company:
This is the most effective when you are not used to the area and have no idea of offers within the area.
Thus:
With a direct visit, you get an idea of what to expect and a given piece of information you need to know about how to proceed.
Physically inspect the property you have in mind
To avoid paying for property that you will regret, it's advisable that you inspect the property you are interested in.
And why?
…Because it's going to help your decision process.
During the inspection, you get to find out certain facts about the area.
First,
Be open-minded and have a list of what you expect to be in the area.
As this will help you have a clearer picture of what you need and this will also help you work within your budget.
Hint:
Go with a professional surveyor if it's landed property and an architect if it's a building you wish to inspect.
Their professional view will help you decide accurately.
Close the deal
If after inspection and asking necessary questions you find out that everything is in order and all documents are duly registered with the right offices.
If you decide to go for that property then you need to arrange a meeting to complete the purchase process.
At this stage, you must have concluded a price with the property owner and have a lawyer draw up the binding contract between the two parties.
Another fact is…
This contract is to be signed only after every document needed to facilitate the transfer of the property is in place and has been vetted by the lawyer.
This will ensure that there is no foul play and that the buyer is not at a disadvantage.
Keep in mind…
…That
Buying a property is the first step.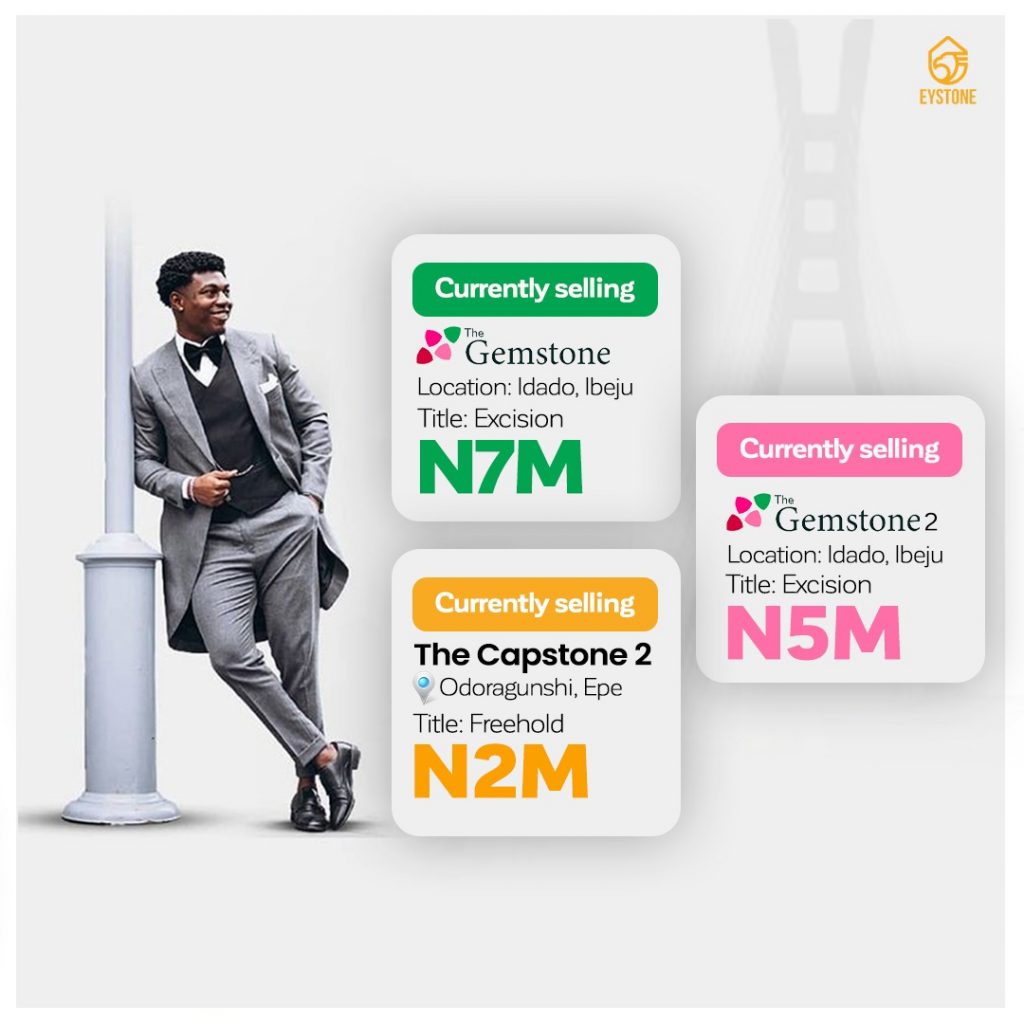 And that other fees be incurred such as:
Fee for developing the land
Getting a survey plan in place
Deed of assignment
Transfer of ownership
Buying the property makes it yours.
The fact is:
You still need to legally transfer the property to your name.
Your lawyer will be involved in this too.
As you will have to legalize the title deed of the property to your name.
#pro tips
You can get CofO, excision, gazette, and governor's consent among others.
Although these are all extra charges to ensure that the property is not lost after its purchase it is necessary to make every document transfer legal.
For this:
You can show ownership of the property by fencing it immediately after purchase or the real estate company help you draw out a corner piece.
Why?
This practice is very common among landowners.
…The reason?
The aim Is to avoid loss of property to 419ners or land grabbers.
Putting up a signpost "property of MR. A" will also help chase land poachers from your property.
The result?
When you follow these steps you are sure to have minimal trouble with real estate investment in Nigeria.
But make sure you use a lawyer or professional that will ensure you are making the right decision at all times.
To ease confusion:
My team can help you figure all that out.
Conclusion
Now that you know everything concerning real estate investment in Nigeria.
If you still don't know how to invest, meet my team and they will gladly educate and help you to invest better.
I hope this guide has been helpful.
If you do have further inquiries leave a live conversation chat.
Other options?
Click on the subscribe button.
And.
Don't forget to share this super helpful guide on real estate investment in Nigeria.